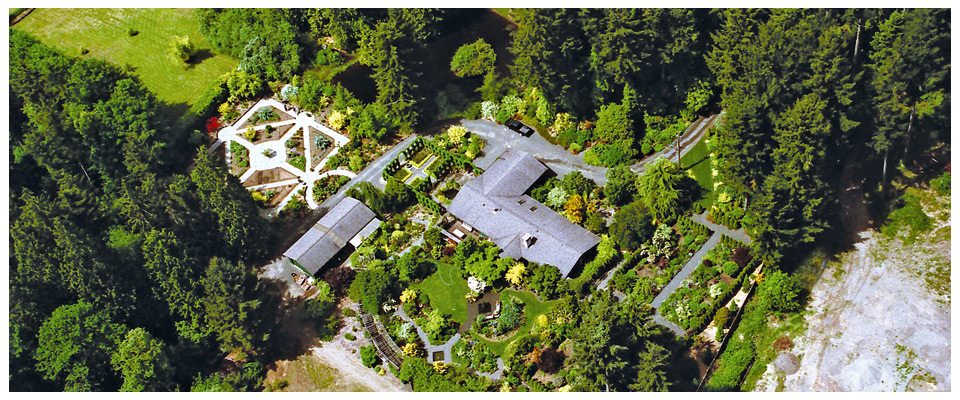 Heronswood Garden was founded in 1987, by Dan Hinkley, horticulturalist, and Robert Jones, architect.
Dan has made over 35 trips wild-collecting plants from all over the world. He is a popular speaker renowned for his entertaining and informative photographic presentations of his botanical travels.
Robert designed the layout, hardscape and structures of the garden, as well as the heron and frog logo.
Heronswood Nursery became a successful and renowned source of rare, unusual and beautiful garden-worthy plants and made many introductions of new species and cultivars. The Heronswood catalog was eagerly awaited and the primarily mail-order nursery shipped plants across the country and abroad. The garden attracted
visitors from all over the world and the Garden Opens drew thousands of shoppers and visitors each year.
At the height of its success and popularity in 2000, the business and property were sold to the W. Atlee Burpee Corporation. Dan and Robert remained to run the business and garden along with the 30-plus member staff and crew until June of 2006, when Burpee abruptly closed the nursery, and liquidated or relocated most of the plant materials and fixtures.
The garden and property were left under minimal care and maintenance through August of 2012, when the Port S'Klallam Tribe purchased the 15-parcel at auction.
A strong volunteer effort led by Dan immediately manifested and undertook restoration of the garden.
The Tribe committed to restoring and maintaining the garden which was placed into 501(c)3 nonprofit status under the Port S'Klallam Foundation in 2013. In 2015, the land went into tribal trust status.
The Foundation manages the garden through the support of the Tribe, individual and group memberships and donations, tours, and events.
The garden is maintained by a small staff and crew under the direction of Dan Hinkley and supported by an enthusiastic and devoted cadre of volunteers. New volunteers are encouraged and welcome.
Heronswood Garden is again attracting visitors both local and worldwide for its beautiful and unique planting and has hosted hundreds of tour and volunteer groups. All proceeds go to the restoration and maintenance of the garden.
Heronswood Garden is an evolving landscape designed for year-round interest. New plantings include species from Dan's more recent plant collections and other plants of known provenance and botanical interest.