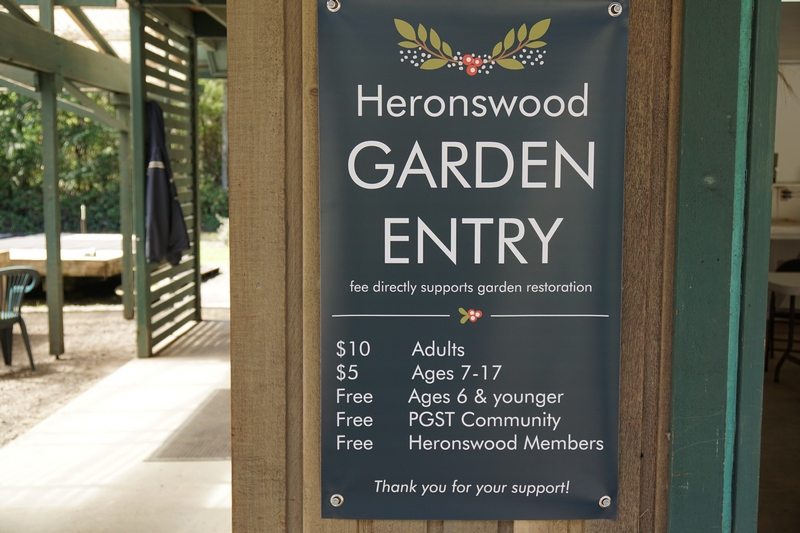 Heronswood is open to the public every Friday and 4th Saturday!
Guided tours also available
Planning your visit ahead is advised as opening hours are limited.

Heronswood Garden is open every Friday from 10 AM to 3 PM for self-guided tours, March through October. With the last garden at 2:30pm. They have just announced that they have extended their hours to include the 4th Saturday of every month for 2017.
There is no reservation required.
Entry to the garden cost just $10.00 per person for adults 18 and over. For ages 7- 17, entry is $5. 6 years and under get in for free.
Entry is free for Heronswood Garden members and Port Gamble S'Klallam Tribal community members. Find out how to become a Member.
The self-guided tours include a map.
If you are interested in Group tours or Pre-schedule weekday tours visit the Tours page.
Helpful to Know Before you Arrive


The Heronswood Garden is ADA accessible.
The Heronswood Volunteers are very helpful and are available to answer questions. If you have any questions regarding plants you are encouraged to take photos with your camera or phone and a volunteer can assist with identifying it.
Heronswood Garden has a guest nursery on site each Friday offering a seasonal selection of great plants. A portion of those sales go toward the restoration of Heronswood.
Four times a year Heronswood hosts highly popular plant Sale & Garden Open events. For more information, please visit the Events page.
You are welcome to bring your lunch, however you cannot bring food into the garden proper. There are shaded tables adjacent to the Garden Shed for Picnics.
There are portable toilet facilities on site.
Heronswood welcomes Dogs on leashes, but please bring your own clean-up supplies

Visit the Map page for directions
Garden Etiquette


Just as you would expect of any private facility there are rules to follow so that everyone can enjoy the surroundings and the experience.
Show Respect for the Garden and for other visitors
Do not walk off pathways – Stay out of garden beds.
Do not take any plant materials including seeds, leaves, or cuttings.
Pets are welcome on leash – please clean up after your pet
There is no food, drinks or smoking allowed in the Garden
Dispose of all recycling or trash properly


Wander at Your Own Risk
Watch your footing on pathways
Children should be supervised at all times
Be aware of open water areas and fixtures
Photography Policy


While visiting Heronswood Garden, you are welcome to take photos or video of the garden and events taking place for your own use. No monopods or tripods allowed. If you intend to use your images/video commercially, you must sign a release form with Heronswood Garden.
Thank you for visiting our Heronswood Fan Site!
Please use the below contact form to contact Heronswood directly.